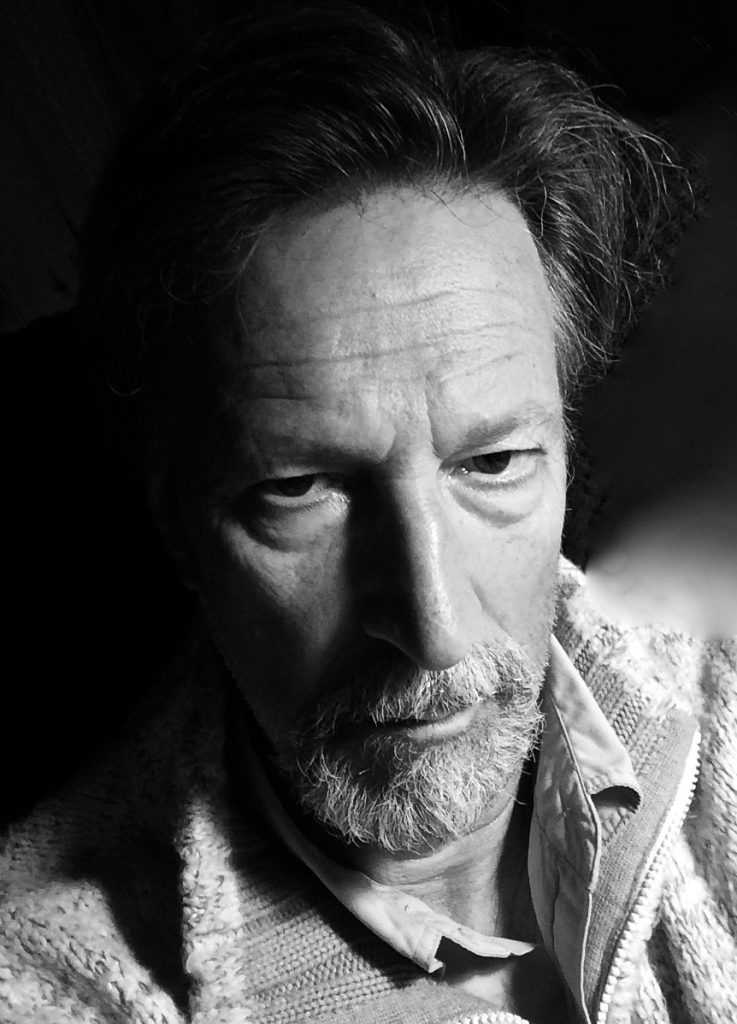 Chris Meigh-Andrews is an artist, video historian, writer and academic who has been making and exhibiting his photographic, video and moving image installations since the mid 1970's. His site-specific and commissioned installations often incorporate renewable energy systems establishing direct relationships with the natural and constructed environment. Examples of his video and photographic work are held in a number of national collections including the Victoria and Albert Museum, London; Muzeum Historii Fotografii, Krakow; The Harris Museum and Art Gallery, Preston; The Scottish Screen Archive at the National Library of Scotland; The British Artists' Film & Video Collection and the Lux Collection, as well as in a number of private collections.
Meigh-Andrews studied at the London College of Printing, Goldsmiths (MA, Fine art ) and the Royal College of Art (PhD). He was Arts Council International Artist Fellow, Krakow, Poland. (2003-2004); Video Artist in Residence, Prema Arts Centre, Gloucester (1995); Video Artist in Residence, Cleveland Arts (1995); Artist in Residence, Saw Contemporary Art Centre, Ottawa, Canada (1994); Resident Artist in Digital Imaging, School of Visual Arts, Music & Publishing, Oxford Brookes University, (1994) and is currently engaged in a residency at the Cambridge School of Art, Anglia Ruskin University.
Curatorial projects include Yes, Snow Show, (British Film Institute, 2009), Analogue: Artists' Video from the UK, Canada and Poland:  1968-88, (Tate Britain and Modern, London, and at venues in Liverpool, Norwich, Warsaw, New York, Toronto, Ottawa, Valletta and Berlin: 2006-2009) and The Digital Aesthetic, a series of exhibitions and symposia organised in collaboration with the Harris Museum, Preston (2001, 2007 & 2012).
During the 1980's Meigh-Andrews taught at a number of art schools and institutions including
The London College of Printing
,
The London International Film School
,
Maidstone School of Art
and
Leicester Polytechnic
. However, his main teaching role was at the
University of Central Lancashire
(1984- 2012). Whilst working at Uclan he initiated and was head of Time-Based Media (1986-2000), co-founded the MA Fine Art course and established the
Electronic & Digital Art Unit (EDAU)
, a centre for post-graduate research. He was made Reader in 2000, Professor in 2007 and
Professor Emeritus
on his retirement from teaching in 2012.
From 2013-2017 Meigh-Andrews was Visiting Professor at the Centre for Moving Image Research, Faculty of Arts, Creative Industries and Education at the University of the West of England (UWE). He is currently External Examiner for MA Digital Arts at the University of Malta, MA Photography-Contemporary Dialogues, Faculty of Art & Design, at the University of Wales, Trinity St David and BA and MA Digital Media at Bournemouth University.
Meigh-Andrews has written extensively on the history and context of artists' video. His book, A History of Video Art: the Development of Form and Function, (Berg, Oxford and New York, 2006) and in Japanese (Sangensha, Tokyo, 2013), provides an overview of the development of artists' video since its inception. An enlarged and expanded edition of the book was published by Bloomsbury in Dec 2013 and will be published in Mandarin Chinese by the China Pictorial Publishing House, Beijing in 2018.
Book Chapters include "The Emergence of Early Artists' Video in Europe and the USA and its Relationship to Broadcast TV", Materializing Memories: Dispositifs, Generations, Amateurs, (Bloomsbury), (Forthcoming, 2018); "Location & Dislocation, Site & Architecture: Video Installation by Palestinian Artists", Palestinian Video Art: Constellation of the Moving Image, Bashir Makhoul, ed, (Palestinian Art Court-al Hoash, Jerusalem, 2013.) "Optiks: Peter Campus", The BFI Gallery Book, (British Film Institute, London 2011) and "Video Installation in Europe and the USA: The Expansion and Exploration of Electronic and Televisual Space: 1968-1988", Expanded Cinema: Film Art Performance, (Tate Publications, London, 2011.);"Interwoven Motion: steps towards a semi-permanent outdoor self-powered video installation", The Itemisation of Creative Knowledge, FACT/ Liverpool University Press, 2006; "The Vasulka Tapes", Vasulka Lab 1969-2005-Live Archive, Vivid, Birmingham, 2006; "Chris Meigh-Andrews: Early Video Tapes: 1978-87", Experimental Film and Video, Jackie Hatfield, ed., John Libby Publishing. 2006.
He is currently General Editor, UK and Europe of the forthcoming three-volume Encyclopedia of New Media Art for Bloomsbury Academic.
Meigh-Andrews is represented by Tesserarts Gallery
Contact Details:
Address: The Benham Studios, Cuckoo Farm, Boxted Road, Colchester CO4 5HH, England.
E-mail: meighandrews@btinternet.com
Mobile/Cell: +44 (0)78 55954298